There was a time when recitation was confined to the solo regimentation of the artist. But Sumantra thought otherwise.The rhythm of poetry brings more joy if shared with others. So 23rd July, 1989 was the birth of "Shankhamala" a school for recitation.

Sumantra believes togetherness can cure most ailments. Shankhamala thus brings people together, across ages, across vocations, across ideologies-the only thing they have in common is their intense love for poetry and recitation. Shankhamala is not just a school for recitation, it is a medium to reach out to the poetry loving masses.

From 1989 one by one years have crept by Shankhamala has manifold. What has been the outcome after all these long years? Sumantra says,"an evaluation of what Shankhamala has done for recitation and its students is not necessary. Proof is to be given on the stage, while performing, the examiners are the audience and critics.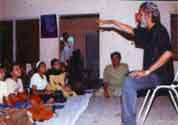 Shankhamala has all along experimented with the poetical art form. It has been manifest in their productions. Latent to every poem there is a drama. A good recitor can bring out this inherent drama. "Jalosrot Kotha Koy", " Nobojiboner Angikar" (Based on Tagore's Shisutirtha), "Pratham Partha" and Tapassi Tarangini" are apt examples of something different. Sets audio and lighting have been used effectively. Children have given superlative performances in "Ha-ja-ba-ro-la" and "Baghar Chakri", "Sahaj Path", "Hiru Dakat", Death has been portrayed in prose in "Sono-a-Mriter Golpo","Ek Nirupam Jatra" has been rendered with audio-visuals. Sumantra Sengupta and Gautam Haldar joined hands to experiment with a mixture of poetry and songs in "Agun Phaloban". Besides teaching recitation, Shankhamala also published a quarterly magazine named " ARSHINAGAR", which is dear to all Poetry Lovers.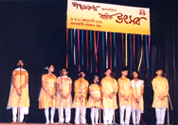 Shankhamala has another unique project in mind - to assemble a library housing not only books on poetry, but also writings on the subject, old records, cassettes etc. It will be of immense help to all those who are connected with this artfom. It would be inappropriate to say Shankhamala is just a school for learning recitation. It is not only an institution consisting of Sumantra and his able students. It also has parents, friends and numerous well-wishers, who may not be its students but have the common flame of poetry in their hearts. They are always there, walking these long years, side by side. Shankhamala has gone beyond individuals, it is one big happy joint family.